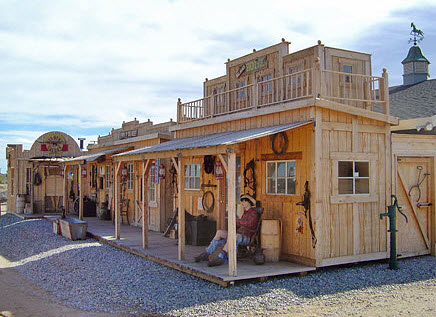 Day Horse Camp
Click here for information regarding Day Horse Camp
Horse Camp
For Children and Adults - Horse Camp! Oak Meadows Ranch's goal will be to have available a western themed ghost town setting and an Native American Camp complete with Teepees. You can make a difference to a child. You can make this possible with a donation. Whether it's $5.00, $25.00, a building or a complete town. The cost is approximately $13,999.99 retail pricing. If you or your business would like to sponsor a building with a $2,799.00 per building donation your name and/or your business name can be added to the building or teepee without ever being removed. The goal is to have at least 5 8X8 or 8X12 buildings and at least 4 18 ft. teepees available 2013.
Our vision is to have a western themed town and an Native American (Indians) camp play area. Teepees to be donated can be purchased at: Nomadics Tipi Makers. (Reenact Cowboy & Indians for children and adults.) Children and adults can pretend for the day when visiting the rescued horses Cowboys and Indians. Interact, groom and visit with the horse of your choosing and tie the horse to the wooden hitching post just as they did in the old west.
This is the Year to Fulfill Your Child's Horse Dreams! This is a Year to Expand Your Child's Purpose! Horse Camp is not just about riding. Beginner, Intermediate and Advanced Riders, Learn life skills with wonderful horses. Teamwork, Responsibility, Self Esteem, Self Confidence, Boundary Setting, How To Be Innovative and Think Creatively. Oak Meadows Ranch Horse Camp help develop concentration, focus, fine motor skills, and physical fitness. Horse riding improves all other skills needed to excel in school and in life. In working with the rescued horses, who have been rehabilitated, and today are some of the nicest and best mannered horses that you will find anywhere, your children are introduced to the concept of service and making a difference. The attention to the care of the ranch teaches them about respect for both natural and man-made beauty. This is a program where your children learn how to have awareness and impact and introduces them to the concept of service and making a difference. Your children learn to be more caring citizens both giving and receiving. More than Just Riding. You Will Notice the Difference! Corporate Retreats and Company Equine Assisted Team Building. We provide customized experiential horse guided programs which bring transformational change to team members and leaders. Working with our herd teaches people how to become more effective leaders and team players. Corporate Training for Facilitators. Our corporate trainings are ideal for all who are interested in developing or improving Equine Assisted Learning and Equine Guided Team Building skills, facilitation skills, program development, and delivery of excellence to corporate clients.
Anything will be appreciated. We thank you, the horses thank you and the children thank you!
For check donations, gift cards, or gift certificates mail to:
Blue Pearl Project
36068 Hidden Springs Rd. Suite C-142
Wildomar, California 92595
Blue Pearl Project
951-805-7419
Email: BluePearlProject@gmail.com
Dedicated To Helping Horse Rescue Throughout The United States of America
Blue Pearl Project Inc. a Non Profit Organization is a Federally recognized Non Profit 501c3 Tax-Exempt