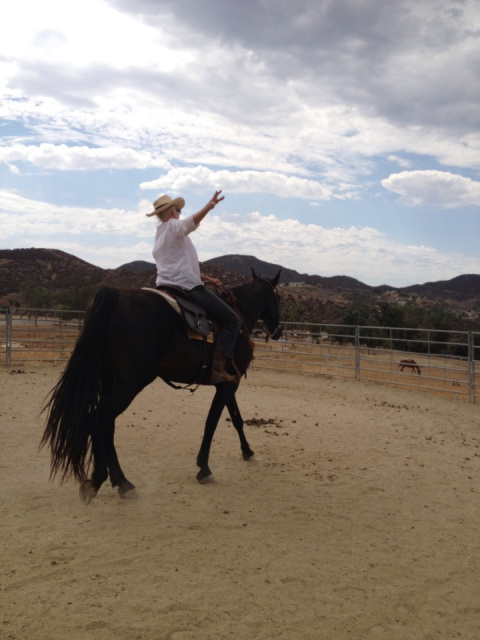 Horse assisted activities and therapies help people of all ages experience the emotional and physical rewards riding and working with horses. With many just petting and brushing a horse and being out in the open away from city life takes away the stress from life. According to the North American Riding for the Handicapped Association an adult with Down's Syndrome, war veterans with post traumatic stress disorder and elderly stroke patients can all benefit from the rhythmic motion produced by sitting on the back of a moving horse; emotional and mental wounds can be mended by the bond formed by feeding and grooming these large, gentle animals.
Physical Benefits on a Horse
Horse also know as equine therapy, or hippotherapy, utilizes the horse's variable, repetitive and rhythmic movement to provide a base of support for those senior citizens suffering from balance problems, impaired coordination, decrease mobility, poor postural control and traumatic brain injury or stroke. According to the American Hippotherapy Association, sitting astride a walking horse simulates the human's normal walking gait, and allows elderly individuals to build flexibility, plus trunk and postural strength. As the horse changes gaits, hippotherapy trains patients on the subtle muscle control necessary to maintain a stable position in the saddle. It also teaches patients timing, coordination and respiratory control, and facilitates the healing of the neurological systems necessary for functional daily life.
Blue Pearl Project / Oak Meadows Ranch welcomes those with disabilities, elderly and wounded warriors to come and enjoy the ranch, therapy with the rescued horses or those that just want to be around horses.
Blue Pearl Project / Oak Meadows Ranch
951-805-7419
Email: BluePearlProject@gmail.com
To make a donation for the feed and care for the therapy horses
Blue Pearl Project Inc. a Non Profit Organization is a Federally recognized Non Profit 501c3 Tax-Exempt